Anastasia Kurakina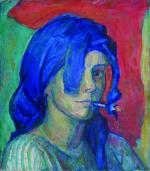 Date of Birth:
1987
Nationality:
Russian Federation
E-mail:
lizei@mail.ru
Phone:
-
Website:
www.artmajeur.com

Exhibitions
2013 - Venezia, Italia - Arte laguna prize - Arsenale di Venezia
2013 - Los Angeles, USA - "Beer is art" - Gallery La Luz de Jesus
2013 - Tolentino, Italia - Mostra personale della Vincitrice della 26 Biennale - Museo Internazionale Umorismo nell arte di Tolentino

About
Anastasia Kurakina was born in Moscow in 1987 in a family of artists. Her father, Sergey Kurakina(Сергей Куракин), is the authour of icon "Novorusskaya Bogomater"(Новорусская Богоматерь). Her grandmother, Olga Kondratieva, was a student of V. Veizberg who's paintings are exhibited at the StateTretyakov's gallery permanent collection, and V.Vaizberg, in turn, was Giorgio Morandi's student. Her uncle,...