Fatima Jamali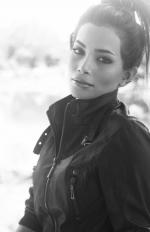 Date of Birth:
1980
Nationality:
Iran
E-mail:
fatima.jamali@ymail.com
Phone:
+90-5368832110
Website:
Exhibitions
2016 - Istanbul / Turkey - Bohem gallery
2012 - Kuala lumpur / Malaysia - Woman day -
2016 - Istanbul / Turkey - Passion- - Moda deniz kulubu

About
My passion for art goes back to my childhood when I was 3 or 4 years old and so excited to express my colorful world with simple shapes and I won kids art competition. When I was 5 years old I made my first steps in the art field working in Behzad Art Academy, which I was, the youngest one in that academy. When I was 18 (1998), I opened my first Art Gallery in Bushehr in Iran that was the first Art Gallery in that small town as well. 2004 I attend to Nosrat-ollah Moslemian Art Academy and may style changed as I studied modern art.
In 2005 I became Judge Expert in the field of Graphic Design in 6th National Skill Competitions.

Due to the well-known difficult circumstances that an artist could face in Iran, I wasn't convinced if that is the right environment to further build my career and to strive for my goals there. By that time I was doing graphic design and animations for a TV Channel called SIMA. But in order to continue my education and artistry life, I decided to leave my home country and left to Malaysia when I was 29 years old and I spent my life and career between 2009 and 2013. This gave me opportunity to research about Asian art and started my education at Limkokwing University of Art where I did my MBA in Knowledge Management with Multimedia. During that time, I had various opportunities to meet a lot of well-known Malaysian artists and got first-hand insights into their works.

After spending 5 years in Malaysia, I wanted to further develop myself and was keen to know more about European art. This brought me to Croatia for one year. But I Still I wanted to discover different cultures, meet different artist and at the same time continue my education. This brought me to Turkey in 2014, where I not only study Ottoman art but also do my PHD in Strategy Management. 2016 I had chance to met really great artist Musa Guney and we opened a Art Studio which calls Galata art.

Media imposes us images which embrace our mind in a colorful delusion. It also makes us thirsty of the virtual world while it satisfies us with images with the same virtuality. In the end it will not take us to a tangible reality but ends as a glamorous patch in the bottom of our spirit. My collection is about organizing this same glamorous chaos of our virtual world, which inspired me with bright colors in a disarranged form.