Neda Shafiee Moghaddam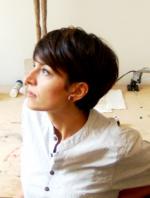 Date of Birth:
1975
Nationality:
Iran
E-mail:
nedash07@gmail.com
Phone:
+39 3662325514
Website:
www.nedashafiee.com
Exhibitions
2016 - Roma Italia - Body diaries - Emmeotto gallery
2015 - Puegnago del Garda Italia - PERSPECTIVES FROM THE NEAR EAST - Foundation Vittorio Leone
2015 - Roma Italia - Confusion - Gallery of Art, Temple Un

About
was born in Tehran in 1975.



At the age of 12 I began to study drawing and painting.



I graduated in Sculpture from the Faculty of Fine Arts of Tehran University in 1999 and from the Rome School of Fine Arts (Accademia di Belle Arti di Roma) in 2008, I continued my studies in the Master of the "visual and performing art disciplines´ in the same school.