Gregg Simpson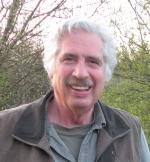 Date of Birth:
1947
Nationality:
Canada
E-mail:
greggsimpson@shaw.ca
Phone:
+1 604-947-9408
Website:
Exhibitions
2015 - Los Angeles USA - Self Portraits #2 - Cypress College Gallery
2015 - Venice Italy - Eye Candy (solo exhibit) - Loreta larkina Studio
2013 - Santiago de Compostela Spain - The Atlantean Years: 1970-1975 - Museo-Fundacion Eugenio Granell

About
Born in Ottawa in 1947, Bowen Island artist, Gregg Simpson's work has evolved from the collages and Pop-influenced paintings of the 1960s, through the neo-Surrealism of the 1970's to an organic abstraction in the 1980's and works based in both landscape and the figure during the last thirty years. His work has been exhibited in museums and galleries in Canada, the U.S., Italy, France, England, Austria, Switzerland, Spain, Portugal, and Chile. He is included in over 100 private and public collections internationally. The west coast rainforest where he grew up and lives today is always an underlying factor in Simpson's work, alternating with influences derived from European art, especially surrealism and lyric abstraction. Simpson's work has been written about and studied in several art journals, history books and academic studies at several major institutions including the Sorbonne in Paris, the Université Rabelais de Tours, and the Accademia Tiberina in Rome. In May 2000the artist exhibited at the Fortezza di Montalcino, a 14th Century castle in Tuscany, the subject of a BRAVO TV documentary in 2003, A New Arcadia, The Art of Gregg Simpson, which is now on YouTube.