Betul Omay Yazici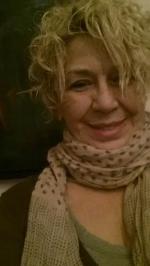 Date of Birth:
1945
Nationality:
Turkey
E-mail:
betul.yazici@yahoo.com.tr
Phone:
+90 05554096955
Website:
Exhibitions
2014 - Izmir Turkey - IC SESLERIM - TURKAN SAYLAN KULTUR MER.
2012 - Adana Turkey - IC SESLERIM - 75. YIL SANAT GALERISI
2010 - Mugla Turkey - IC SESLERIM - HALUK ELBE SANAT GALERISI

About
Betul Omay Yazici who was born in 1945, in Adana completed her education in Archeology of Istanbul University / Prehistoria Department. She has participated in solo and group exhibitions abroad and domestic. Every brush stroke reweels her emotions. She stiil continues her works in her workshop in Izmir.