Reyhan Abacioglu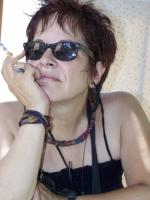 Date of Birth:
1953
Nationality:
Turkey
E-mail:
reyhanabacioglu@hotmail.com
Phone:
Website:
Exhibitions
2008 - Istanbul / Turkey - Cntemporary - Fair
2008 - Austria - 17. Arlberger Kulturage
2006 - Tehran / Iran - International Biennal -

About
She was born in 1953 in İzmir and graduated from Department of Fine Arts of İzmir Training Institute in 1972. Having worked in several schools as an art teacher, she has been working as the art gallery director in İzmir at the moment and also maintaining her studies at her own studio. Besides 35 solo exhibitions, she has participated several joint exhibitions up till now.