Sema Barlas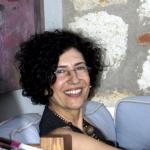 Date of Birth:
1954
Nationality:
Turkey
E-mail:
barlassema@hotmail.com
Phone:
+90 05327170681
Website:
Exhibitions
2015 - Ankara Turkey - SUREC VE EYLEM - KELEBEK SANAT GALERISI
2014 - Izmir Turkey - SUREC VE EYLEM - GUZELYALI KULTUR VE SANAT
2014 - Izmir Turkey - SEN VE BEN - 50. YIL SANAT KOSKU

About
Sema Barlas who was born in 1954, in Istanbul completed her education in Ottawa School of Art / Canada.As well as her domestic and solo international exhibitions, she has participated in many competitive and group exhibitions. She stiil continues her works in her workshop in Izmir. When she starts painting, her first lines, first colours vibrant and vigorous like her childhood. She is engaging to this game from somewhere without concern. The canvas sometimes becomes a one man show, sometimes a stage where many expressions clash on her canvans.