Raşit Altun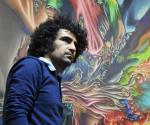 Date of Birth:
1980
Nationality:
Turkey
E-mail:
altunrasit@hotmail.com
Phone:
+90 5055049275
Website:
www.rasitaltunart.com
Exhibitions
2015 - Ankara Turkey - Araf Purgatory - Galeri Soyut
2015 - Paris France - Sinerji - Salon 2015 SNBA Louvre
2011 - Miami U.S.A. - Artexpo - Artexpo

About
1980 İzmir'de doğdu. 2001 yılında Anadolu Üniversitesi Eğitim Fakültesi Görsel Sanatlar Eğitimi Bölümünden mezun oldu. Kişisel sergilerinin yanısıra, çok sayıda karma sergide yeralmış, ulusal ve uluslararası sempozyumlara katılmıştır. Dokuz ödülü olan sanatçının eserleri resmi ve özel koleksiyonlarda bulunmaktadır. Eskişehir'de kişisel atölyesinde çalışmalarına devam etmektedir.
Raşit ALTUN was born in İzmir/Menemen in 1980.He completed his primary and secondary education in Menemen. He graduated from the Department of Fine Arts Teaching in the Faculty of Education at Anadolu University in 2001. The Artist who has nine awards, has participated in many group exhibitions. His Works have been kept in official and private collections. The artist continues to work in his studio in Eskişehir.