Hakan Ada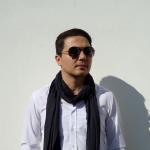 Date of Birth:
1982
Nationality:
Turkey
E-mail:
hakanada33gmail.com
Phone:
+90 05536251883
Website:
Exhibitions
2014 - Ankara Turkey - Düşler Ülkesi III (Dream Land III ) - Galeri Soyut
2013 - Istanbul / Turkey - Düşler Ülkesi II (Dream Land II ) - Galeri Artist Çukurcuma
2012 - Istanbul / Turkey - Düşler Ülkesi I (Dream Land I ) - Chalabi Art Galeri

About
In all the paintings of the Hakan Ada's which is real similarity the outside world is the similarity in the context explore him. Similarity is the fact that the outside world as he discovers the truth to be.
Photo by reference to the logic of the project that has brought new oppoetunities. According to some advantage which out of the center according to some disadvantages of living, space living works tightly wrapped advantage. Concepts of reality and the surreal, the relationship between the tides are sensitive. He created a new language mean that in a surreal context.
According to the body because it is similar to the artist painted a similar picture on canvas. Imaginary reality of the fact that the images of the texture of his paintings can interfere with. Scraping off the ADA itself from the world of depressed chaotic world where the eye moves to the world of dreams.Ducts and traces of dreams is to live here to meet the eye.