Merve Turan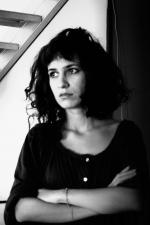 Date of Birth:
1987
Nationality:
Turkey
E-mail:
merve@imoga.org
Phone:
+90 536 569 88 78
Website:
www.behance.net/merveturan

Exhibitions
2015 - Istanbul / Turkey - Group Exhibition - Gallery FE
2014 - Berlin Germany - Carbon Blue Collective - Urban spree
2013 - Istanbul / Turkey - Group Exhibition -Büyükhanlı Beşiktaş Residance

About
Merve Turan, one of the young represantatives of contemporary art, was born in 1987 in İstanbul. She is a graduate of Marmara University of Fine Arts and her works were displayed in many national and international group exhibits. She started having her master at Işık University at 2010.Turan is working as the assisstant of Prof. Süleyman Saim Tekcan at IMOGA Museum and also continues doing her prints and oils there.