Erhan Cihangiroğlu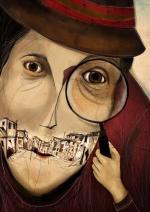 Date of Birth:
1983
Nationality:
Italy
E-mail:
erhancoglu@gmail.com    
Phone:
+90 5368823060 
Website:
www.erhancihangiroglu.com  

Exhibitions
2015 - Istanbul / Turkey - Melior Mundi - halkaartproject
2015 - Berlin Germany - Carbon Blue Collective - Urban spree
2014 - Istanbul / Turkey - Group Exhibition - Büyükhanlı Beşiktaş Residance

About
Erhan Cihangiroğlu was born in Istanbul in 1983. He studied art and craft Education at Marmara University for two years, and then he was awarded scholarship for the visual Communication and Design Department of Doğuş University, from where he Graduated. During and after his studies he worked as Prof.Devrim Erbil's assistant in his studio. At the moment he is working towards his solo exhibition and doing illustrations for literary.