Azamat Kuliev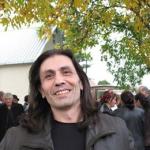 Date of Birth:
1963
Nationality:
U.S.S.R.
E-mail:
kaysino2@mail.ru
Phone:
+90 5332332850
Website:
www.azamatkuliev.com

Exhibitions
2007 Istanbul Turkey Galeri Baraz
2005 Ankara Turkey Galeri Selvin
2014 Roma Italia Galleria Lombardi
About
After a graduation from high school in Nalchik where he was learning basic skills of art he moved to Leningrad and became a student of The State Academic Art School[3] which he graduated successfully in 1981. Since that he was working at The Art Foundation in Nalchik. After serving in the Soviet Army in 1986 Kouliev returned to Leningrad and studied at the Repin St. Petersburg State Academic Institute of Painting, Sculpture and Architecture,[4] formally known and subordinated within the Russian Academy of Arts,[5] under direction of Andrei Mylnikov, ( Russian: Мыльников, Андрей Андреевич ), an acclaimed Russian artist, Vice-President of Russian Academy of Arts,[6] and graduated in 1996. Since 1998 artist is living and working in Turkey.