Sema Sevgen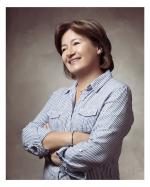 Date of Birth:
1955
Nationality:
Turkey
E-mail:
semasevgen@gmail.com
Phone:
+90 2163500313
Website:
www.semasevgen.com
Exhibitions
2014 - Istanbul / Turkey - Beliefs, Scripts, Tablets - ARTEV
2013 - Roma Italia - Yorumlar Commenti - Vanio Centro arte
2013 - Izmir Turkey - International Art Fair -




About
Ever since I remember myself,history and ancient civilizations have always fascinated me. Old scripts, wall paintings, beliefs, the remains of lost kingdoms and empires, writings on broken stone pieces or torn paper, scratched frescoes, all inspire me in my paintings. I use Greek, Persian, Hebrew letters and phrases in my paintings, I find them extremely picturesque.