Esra Uner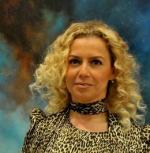 Date of Birth:
1966
Nationality:
Turkey
E-mail:
esrauner6@gmail.com
Phone:
+90 5323225913
Website:
www.esrauner.com
Exhibitions
2013 Athenian Greece Art Fair Gallery Binyil
2013 Roma Italy A La Salida Galleria Borghese
2011 Istanbul Turkey Artbosphorus Art Fair Gallery Unver

About
She was graduated from Mimar Sinan University, Faculty of Fine Arts in 1987. After that, she went on to study Fashion Design at Istituto Europeo Di Arti Operative, Perugia , Italy . She has been working in her own atelier in Ortaköy, İstanbul since 2000. She has exposed her Works in many personal and group exhibitions. She gives private art therapy workshops and painting lessons. The main concept of her all Works is "Purification and Love".