Güler Ozcan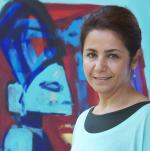 Date of Birth:
1959
Nationality:
Turkey
E-mail:
gulerozcan50@gmail.com
Phone:
+902166412246
Website:
www.facebook/guler.ozcan.73
Exhibitions
2014 ISTANBUL TURKIYE FEELINGS PLANET OF ART GALLERY
2013 ISTANBUL TURKIYE ARTIST 2013 TUYAP
2013 ROMA ITALY COMMENTI VANIO CENTRO D ARTE

About
She graduated from Chemistry Department of Arts and Science Faculty - METU. She also has MS degree from same department. Her professional career started as a research assistant at METU and continued at national and international private companies in İstanbul. Along with business life, she has carried out her art studies alone and from time to time under the consultations of famous painters Since 2000, she has been exhibiting her works with private and group exhibitions. She is currently working at her own studio.