Merve Cetin Semiha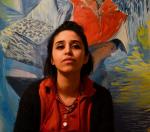 Date of Birth:
1988
Nationality:
Turkey
E-mail:
merve_s.cetin@hotmail.com
Phone:
+90 5556886367
Website:
Exhibitions
2010 - Monastır Tunisia - International Plastic Art Festival - Tunus Gallery
2014 - Istanbul / Turkey - Aynı Zaman da - Degısım Offıce Gallery
2014 - Ankara Turkey - Project of "Sanat Sart" - State Museum of Art

About
Merve Çetin was born in Niğde, Turkey in 1987. After graduated from Ankara Anatolian High School of Fine Arts, she completed the department of Art in Fine Arts Faculty of Anatolian University among the years of 2006 and 2012. Merve Çetin still continues to do art work in Ankara, Turkey.