Selda Mant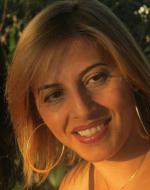 Date of Birth:
1972
Nationality:
Turkey
E-mail:
seldamant@gmail.com
Phone:
+90 5322078655
Website:
Exhibitions
2009 - Izmir Turkey - 3,Ege art sanat Günleri sergisi - Ege Unıversty AKM
2012 - Bruksel Belgium - International Turk sanatları - Belgıum Museum
2013 - Istanbul Turkey - 8 Mart Dünya Emekci kadınlar günü - Işık Unıversty

About
She was born in Eskişehir in 1972. She graduated from Painting Department of Education Faculty of Anadolu University. She got a master's of painting in the İnstitute of Social Sciences at the same university in 1997 and a doctorate degree from Fine Arts Education in the İnstitute of Educational Sciences in 2007. She was a teacher of painting from 1995 to 2004. She got a position as a lecturer in the Department of Painting at Dumlupınar University in 2004. She has been serving as an instructor and the head of the Department of İnterior Architecture since 2007. She attended as a Assist. Prof. Dr. So far she has participated in various group exhibitions on the national and international level five of which were organized by herself. Also she attended a lot of art festivals organized abroad.