Necla Yılmaz Seker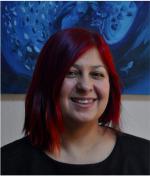 Date of Birth:
1971
Nationality:
Turkey
E-mail:
neclayilmazseker@gmail.com
Phone:
+90-5336353471
Website:
Exhibitions
2012 - Eskisehir Turkey - Silah(ız)lanma - GSF Anadolu unıversty
2013 - Culuj-Napoca Romania - Dıgıtal art untıtled - Casa de Metı
2014 - istanbul Turkey - Aynı zaman da - Degisimsanat Ofıs/gallery

About
Necla Yılmaz Seker, Bachelor Degree of Arts, graduated from Anadolu University (AU), Fine Art Faculty, Department of Painting. The artist who was born in Kutahya, Turkey. She still has further her artistic works in her own painting studio in Eskisehir. Her art works have been displayed in several international exhibitions.